Adult Entertainment Pattaya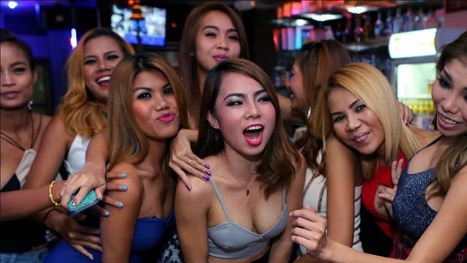 ---
Pattaya due to years, even decades of advertising by word of mouth has found itself perceived globally as the latter-day Sodom & Gomorrah, closely followed by its big brother Bangkok. This vast sprawling seaside resort stands proudly, as one of, if not the top sex tourism destinations in the world.
Thailand's adult entertainment industry attracts millions of visitors annually.  The  abundancy of massage parlors, blow-job establishments and escort specialist's such as Devils Den Pattaya serviced a majority of  Caucasians from western countries, that is no longer the case. Now you will find a mixture of all nationalities, with fellow Asians bordering on being in a slight majority. White Western men are still however vying for dominance in the clubs, Gogo bars and gentleman clubs to be found throughout Pattaya at all hours of the day and night.
Prostitution itself is illegal in Thailand, however when the adult tourism businesses are generating billions annually there is no great motivation to address that illegality with any vigor. Allowing it to flourish in its many disguises. This leaves a vacuum for other equally illegal activities to flourish within the various local authorities.
Fortunately only Thai's and some expatriates within the industry are subject to such forms of 'taxation' and visitors need not concern themselves with such. Most tourists avoid being directly involved with prostitution by paying what is commonly referred to as bar fines. Compensating the bar/club owners for the time their staff take off to entertain customers they have meet within those establishments. What and how the staff spend such time is no one's business but their own and what happens between consenting adults remain their affair and is in no way illegal.
People will often speak of peak seasons, however with an estimated figure of between 10,000 / 18,000 adults working at any one time in Pattaya's escort and sex industry.  Coupled then with warm weather for 75% year, only major global holidays such as Christmas and Songkran cause noticeable increase in the numbers of tourist and adult workers in the go-go bars of Pattaya. That estimate is somewhat conservative though if you consider the ladyboys and freelancers. The true figure is probably closer to 25,000+.